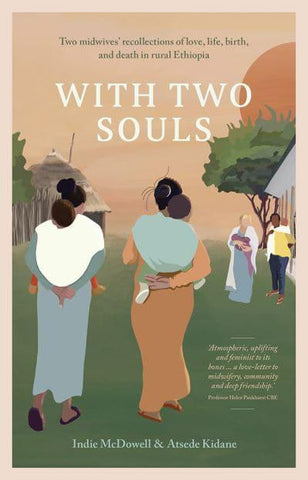 With Two Souls
With Two Souls: Two midwives' recollections of love, life, birth, and death in rural Ethiopia by Indie McDowell & Atsede Kidane
Recollections of birth and death, joy and tragedy that reveal the reality of maternity care in a remote setting.
In 2016, English midwife Indie joined the staff at Attat Hospital in south-western Ethiopia, where Atsede led the midwifery services. It was a meeting that would change their lives. Their close professional relationship, and deep personal friendship, led to them opening a birth centre serving the Gurage women and families of Cheha Woreda, bringing compassionate midwifery care into the heart of traditional communities.
Through the two midwives' eyes, as they recount stories from the women they have cared for over the years, we experience the lives of the Gurage people in rich detail. From one night shift which saw Atsede attend 16 births, and 17 babies born, to the day there was a donkey mysteriously tied up inside the hospital. By way of undiagnosed birth defects, the ramifications of female circumcision, obstetric emergencies, and long hours of ordinary, extraordinary births, what shines through is a deep and abiding love for the women in their care, and respect for each other and the colleagues they work alongside.
A must-read for anyone with an interest in birth or maternal health, With Two Souls, the translation of the Chehaguraginya word hwetarwa, meaning pregnant, is a fascinating and moving insight into what birth can tell us about people and places, and how, when our eyes and hearts are open, we can embrace our differences and work together to benefit our communities.
---
We Also Recommend