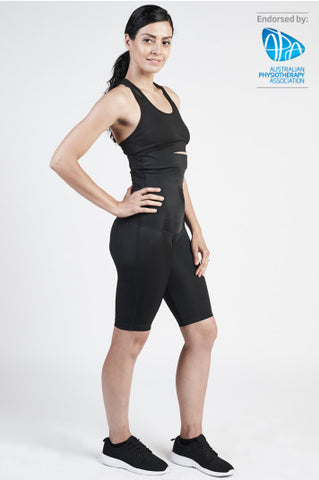 SRC Recovery Shorts
The SRC Recovery Shorts provide you with the support to move more freely post-delivery and make lifting, feeding, bathing and caring for your baby much easier.
Do you want to speed up your post pregnancy recovery*:
Get in shape after pregnancy with the support of the world s leading maternity compression range. Designed in consultation with an obstetrician for the ultimate in comfort and functionality, the patented Anatomical Support Panels in the SRC Recovery Shorts, deliver constant gentle and targeted compression, treating multiple conditions;
C-section wounds
Perineal trauma and episiotomy wounds
Abdominal Muscle Separation (Diastasis Rectus Abdominus Muscle DRAM)
Lower back pain
The SRC Recovery Shorts provide you with increased stability and allow you to move more freely post-delivery, making lifting, feeding, bathing and caring for your baby much easier.
With no adjustable buttons, velcro or zips, the Recovery Shorts are like a second skin. There s no need to constantly adjust while you re wearing your recovery shorts. Recommended by health care professionals for improving mobility and pelvic muscle function postpartum, these recovery shorts have become a must-have inclusion in hospital bags of women the world over.
The original and first SRC Health product that started the postpartum compression garment category, the Recovery Shorts (Knee Length) is still a best seller combining the benefits of treating multiple conditions with the added bonus of providing improved venous return, something not present in the SRC Recovery Shorts Mini Length. They can be worn under jeans, pants and dresses or even on their own as outerwear a la Kim Kardashian! The Recovery Shorts are often still worn for years after the recovery period is over as they are ideal for exercise as well as for aesthetic reasons under fitted clothing.
They are the perfect companion to the SRC Recovery Leggings or the SRC Recovery Shorts - ideal as a second garment while one is being washed, as well as for maintaining healing benefits during sleep. You can wear all SRC garments during sleep as they provide comfort without muscle deactivation.
1. Muscle Activation
The unique SRC compression garment technology stimulates and activates muscles by providing gentle pressure / support to the pelvis, back and abdominal muscles. A corset, girdle, or rigid support garment would simply deactivate muscles and not allow for wear beyond a few hours without providing therapeutic benefits. You can be confident that your SRC Recovery shorts are doing their job from day one, even when you re not active.
2. Swelling Reduction
Fitting like a 2nd skin, the gentle compression in the recovery shorts helps you get mobile faster after both a vaginal or C-section delivery and improves venous return.
3. Wound Support and Pain Reduction
SRC compression garments provide gentle compression to wounds. Whether you have had a C-section delivery or stitches/tears to the perineum, the Knee Length SRC Recovery Shorts can assist with reducing wound swelling and pain and promote a faster and safer recovery.
Your product maybe claimable through your Health Fund.
---
We Also Recommend