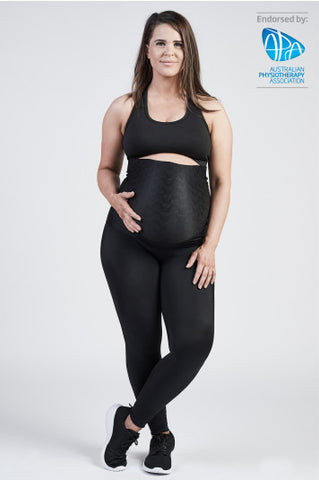 SRC Pregnancy Leggings Over Bump
Do you have pregnancy related pain and discomfort such as:
Lower Back Pain? Sciatica?

Pelvic Joint Pain? Sacroiliac and Symphysis Pubis Joint Pain?

Varicose Veins* and Vulval Varicosities?
Do you have issues with mobility and stability and want to continue working and exercising?
Looking for graduated compression during air travel*?
SRC Pregnancy Leggings OTB are maternity leggings that provide stability to the muscles of the back and pelvis. These maternity leggings are unique as they provide gentle support and compression to your back and pelvis. The targeted compression in the maternity leggings improves pelvic and core stability while graduated compression may prevent the development or worsening of varicose veins by preventing the blood pooling and therefore the symptoms of varicose veins and swollen legs.
NOTE: The panels in the pregnancy range of garments are not designed for post natal recovery.
SRC Pregnancy Leggings OTB have been designed in consultation with obstetrician Dr. Grant Saffer to provide pregnant mums with maternity leggings that will assist in dealing with common pregnancy aches and pains. Anatomical Support Panels in the maternity leggings offer superior support without any feeling of restriction to the changing female body with gentle consistent medical grade compression. The multiple layers of compression in the maternity leggings within the anatomical panels including the gusset panel, have been shown to significantly help with the pressure associated with Vulval varicose veins.

The unique fabrics that SRC maternity leggings have been made from are incredibly comfortable and fully breathable. SRC anatomical support panels deliver true cross compression as each layer is cut on a different plane so that no compression is lost during movement. All SRC fabrics go through rigorous independent testing so that you are provided with the highest quality maternity leggings to assist you in your pregnancy journey.

The SRC OTB maternity leggings feature a super soft and stretchy upper abdominal and back panel that grows with your bump.

These TGA and FDA approved maternity leggings maybe claimable through your Health Fund.
---
We Also Recommend