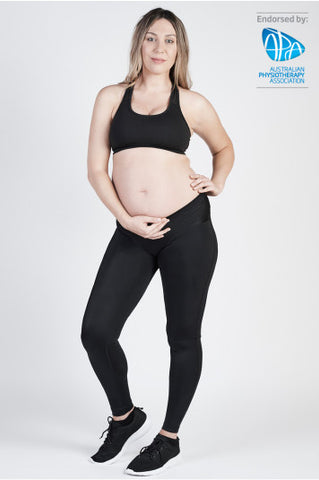 SRC Pregnancy Leggings
Do you have pregnancy related pain and discomfort such as:
Lower Back Pain? Sciatica?
Pelvic Instability and Pelvic Girdle Pain (PGP)?
Varicose Veins* and Vulval Varicosities?
Do you have issues with mobility and stability and want to continue working and exercising?
Looking for graduated compression during air travel*?
SRC Pregnancy Leggings support the muscles of the pelvis by providing gentle compression. The compression in the leggings activates your muscles which promotes better core and pelvic stability. Additionally, graduated compression may prevent the development or worsening of varicose veins by preventing the blood pooling and therefore the symptoms of varicose veins and swollen legs.
NOTE: The panels in the pregnancy range of garments are not designed for post natal recovery.
SRC Pregnancy Leggings have been designed in consultation with obstetrician Dr. Grant Saffer. Anatomically designed support panels fit with the natural curves of the female anatomy whilst delivering consistent gentle medical grade compression at 4-15mmHg. The garment delivers exceptional fit and maximum support without any feeling of restriction.
The reinforced gusset design allows maximum support to the perineum reducing symptoms of vulval varicosities.
SRC Women's compression leggings feature a proprietary luxurious fabric and breathable power mesh lining. These fabrics are independently and scientifically tested. Test results show that our fabric and its construction is not only of the highest quality but it consistently delivers continuous gentle graduated compression over time. To achieve this, high performance fabric panels are cut in multiple planes to provide multi-directional stretch performance which means that SRC compression garments retain their stretch and strength characteristics longer than some leading sports performance brands (100 wash tested).
---
We Also Recommend