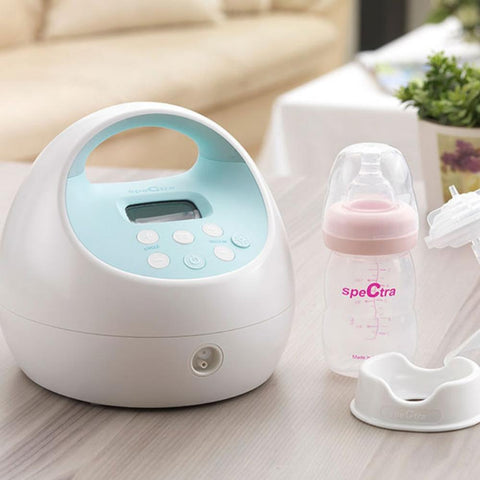 Spectra S1 Plus Double Electric Breast Pump
S1+ Hospital Grade Double Electric Breast Pump is a hospital grade breast pump with all the features of the S2+ including highly adjustable settings to suit your body, nightlight and more with the brilliant addition of an inbuilt rechargeable battery. Comes with complete double kit for double pumping. You are now able to benefit from the efficiency, power and performance of a hospital grade breast pump, without compromising on portability.

Super quiet
Closed system - hygienic for you and baby
Night light & timer
Everything you need for double pumping
Powerful, adjustable suction
Letdown mode and fully adjustable program to best suit your body
Slow-flow teats suitable for newborn feeding
Inbuilt rechargeable battery
Contents
Spectra S1+ main pump
Wide neck breast shield (24mm size) x 2
Bottle x 2
Slow flow soft teat x 2
Tubing x 2
Disc x 2
Cap x 2
Backflow protector x 2
Duck valve x 2
Power adaptor
All components in contact with your milk are BPA free.
Technical specifications
Vacuum range 0 ~ 320 mmHg
Cycle length 38-54 RPM
Weight - 1kg
Two years Warranty
Powered by mains
Motor life 1,500 hours
Country of origin: South Korea
Certification CE, FDA, ISO13485, ISO9001
---
We Also Recommend