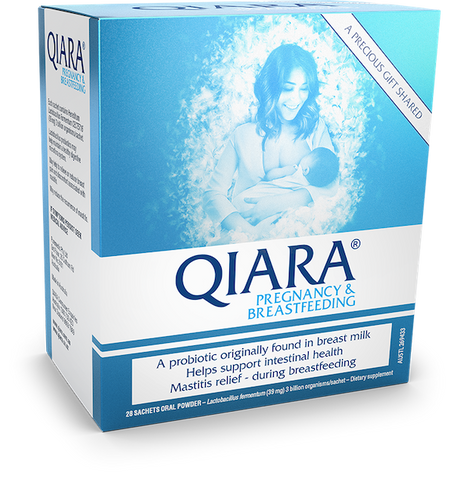 Qiara Pregnancy & Breastfeeding
Qiara Pregnancy & Breastfeeding contains the patented probiotic strain Lactobacillus Fermentum CECT5716, originally isolated from breast milk, which may help:
maintain a healthy microflora, important for you and your baby before, during and after pregnancy
restore balance of good bacteria in breast milk that may have been disrupted by antibiotics, or other external factors
relieve or reduce breast pain and discomfort associated with mastitis
reduce the recurrence of mastitis
Take Qiara Pregnancy & Breastfeeding from preconception, your last trimester, or throughout your entire pregnancy and breastfeeding.
Costing less than a cup of coffee, simply stir one sachet per day into a glass of water and keep breastfeeding with Qiara.
Qiara Pregnancy and Breastfeeding AUSTL 269433:
Contains no added dairy, yeast, eggs, gluten, nuts, soy or salt.
Contains no animal products, no artificial colours, preservatives or sweeteners.
Is suitable for Vegetarians and Vegans.
Does not require refrigeration (store below 25 C).
Is guaranteed to contain a minimum of 3 billion live probiotic bacteria Lactobacillus Fermentum CECT5716 per sachet until the expiry date.
Contains 28 individually sealed sachets per box.
Recommended dosage 1 sachet per day. If prescribed oral antibiotics or if IV antibiotics have been administered, take 2 sachets per day for one week after the antibiotic course is completed, then return to one sachet daily. Take probiotic 2-3 hours before or after antibiotic dose.
Recommended during pregnancy and breastfeeding. May be taken pre-conception and post-breastfeeding.
Pregnancy & Breastfeeding
A mother s breast milk is undoubtedly the best source of nutrition for her infant, and this includes beneficial bacteria we refer to as the Breast Milk Microbiome . This breast milk flora helps to establish the infant s own gut microbiome and is crucial to the development of the infant s immune system.
If a mother s breast milk microbiome has been compromised by external factors such as stress, poor diet or antibiotics, this can have a significant impact on mother and baby. Qiara may assist in restoring the beneficial flora levels in a mother s breast milk microbiome, therefore benefiting mother and baby on many levels.
Breast Pain & Mastitis
Clinical Research conducted using the single probiotic strain in Qiara, shows that it may:
Reduce discomfort associated with breast pain and mastitis
Reduce the recurrence of mastitis
Qiara achieves this by aggressively targeting and outcompeting the pathogenic bacteria in breast milk that may be causing the pain and infection. It also helps to restore and maintain a healthy balance of protective flora in the breast milk microbiome to help prevent recurrence.
Simply take Qiara at the first signs of breast pain or mastitis.
(If symptoms persist, seek medical advice.)
---
We Also Recommend