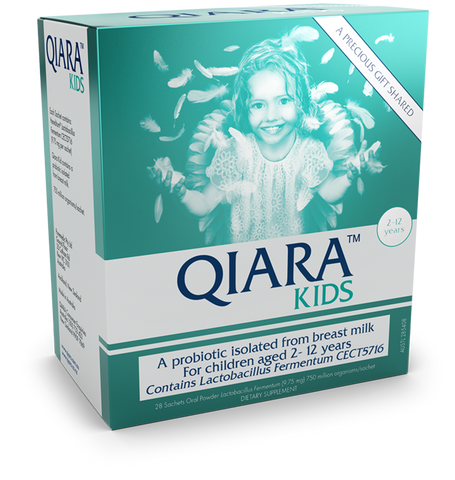 Qiara Kids
Qiara Kids Probiotic is a single strain probiotic, isolated from breastmilk, suitable for children to help maintain a healthy digestive microflora system.
Containing the robust probiotic strain, Lactobacillus Fermentum CECT5716, Qiara Kids Probiotic is ideal for parents wanting their child to continue with Qiara probiotics after breastfeeding to help support intestinal health and digestive function.
Probiotics and Your Child
Probiotics are friendly bacteria that live naturally in the gut to help maintain a balanced intestinal and digestive environment. Probiotics for children promote a beneficial balance of microflora in the intestinal tract, which supports a healthy gastrointestinal and immune system.
Qiara Kids probiotics encourage good bacterial diversity to support optimal health and wellbeing.
Qiara and Antibiotics
Antibiotics may be prescribed for your child to combat bacterial infections but can also disrupt the balance of beneficial bacteria (probiotics) in your child's body.
Containing a robust probiotic strain, Qiara Kids Probiotic may help to restore beneficial bacteria that may have been disrupted by the use of antibiotics and maintain a healthy digestive microflora balance.
If taking Qiara Kids Probiotics during a course of antibiotics, ensure your child consumes Qiara at least 2-3 hours away from his/her antibiotics dose to give the living organisms in Qiara the best chance of survival. Continue taking Qiara after the completion of the antibiotics course, for at least one month or ongoing.
Qiara Kids AUSTL 285408:
Contains no added dairy, yeast, eggs, gluten, nuts, soy or salt.
Contains no animal products, no artificial colours, preservatives or sweeteners.
Is suitable for Vegetarians and Vegans.
Does not required refrigeration (store below 25 C).
Is guaranteed to contain a minimum of 750 million live probiotic bacteria Lactobacillus Fermentum CECT5716 per sachet until the expiry date.
Contains 28 individually sealed sachets per box.
Recommended dosage 1 sachet per day. If prescribed oral antibiotics or if IV antibiotics have been administered, take 2 sachets per day for 5 days after the antibiotic course is completed, then return to one sachet daily. Take probiotic 2-3 hours before or after antibiotic dose.
For Children 2-12 years of age.
Caring for Your Qiara
Qiara Probiotic for kids contains living organisms, and can perish if care is not taken in their handling and storage.
Each dose of Qiara is carefully produced in an Australian TGA licensed facility, then sealed in individual sachets. This ensures that every dose has the minimum amount of exposure to the environment and contains the number of organisms advertised, if not more, right through to the expiry date on the package.
Store your Qiara in a cool, dry place (below 25 C, not in direct sunlight). Consume all the contents of a sachet as soon as possible after opening (mix with water and consume immediately). However, an open sachet can still be used - best if resealed and stored in the refrigerator (dry, at 2-8 C) for up to 4 days.
---
We Also Recommend