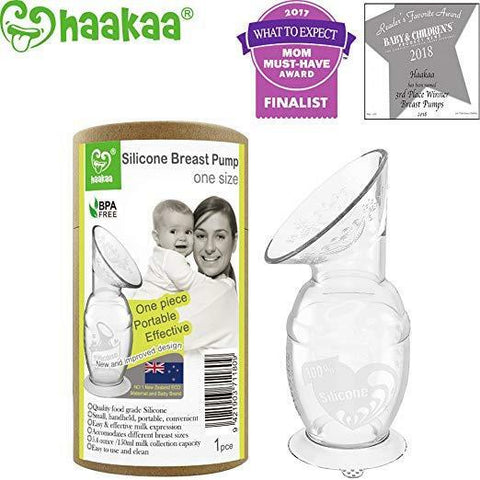 Haakaa 150ml Silicone Breast Pump (Gen 2)
Best Seller!
If you're a breastfeeding mama, the Haakaa Silicone Breast Pump is the perfect little essential to incorporate into your nursing journey.
We've updated the famous Haakaa Silicone Breast Pump! Although it works in the same way as the original Haakaa breast pump, our new pump has a few added features to make your life that little bit easier. Available in two larger capacities of 100ml and 150ml, and with a new suction base that sticks to flat surfaces to prevent accidental spills, it is the easiest and most simple way to express breast milk.

Made from 100% food grade silicone, this compact pump is perfect for long-distance trips, planes, car rides, family BBQs, or anywhere you would like to express discreetly, silently and quickly. Simply suction to your breast and let the pump do the work for you as it draws your milk using suction. It's 100% eco-friendly and safe for mum, baby and our environment.
Express breast milk using the power of natural suction!
Made from soft 100% food grade silicone.
Compact size fits perfectly into any handbag or baby bag.
Suction base stops accidental spills.
100/150ml capacity.
No cords, batteries or assembly required.
Easy to use and clean.
BPA, PVC and phthalate-free.
---
We Also Recommend