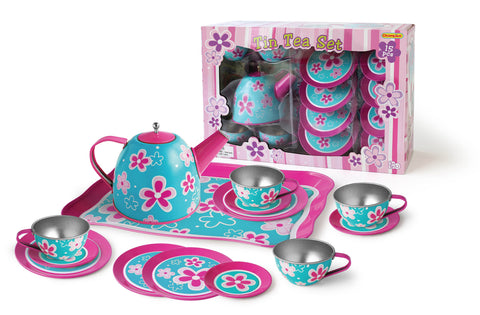 Pink Flower Tin Tea Set 15pc
The perfect tea set for your next tea party. This kids tin tea set is a sweet set featuring pink flowers with a blue background your child will absolutely love. Perfect for pretend play with family or friends, or whether just to invite your favourite dolls or teddy bears, this tea set has everything you need to entertain your child's guests!
This teaset is made from tin and comes complete with 4 teacups, 4 saucers,4 plates, a tea pot with lid and serving tray. 
This tea set from Kaper Kidz is perfect for pretend play tea party. Please note these tea sets are toys, therefore are not suitable for holding any hot liquid or food. 
Specification:
Teapot size approx. 12cmL x 8cmW x8.5cmH
Rec. Age: 3 Years +
Brand: Kaper Kidz
Encourages imaginative play
Helps develop gross and fine motor skills
Promotes social and communication skills
Quality rolled and smooth edges
Materials: Metal Tin
Content Pieces: 15
Measurement: 30x9x20cm
---
We Also Recommend