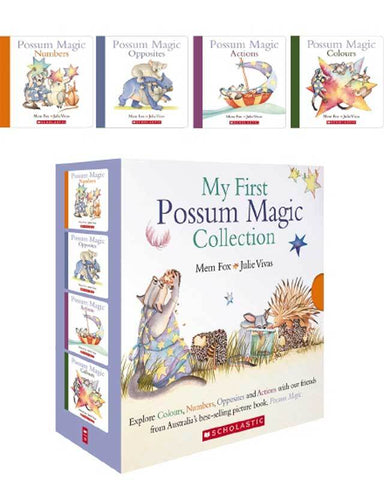 My First Possum Magic Collection 4pk
Recommended for babies from birth & up.
4 x Sturdy board books with beautiful colour images, engaging questions and clear labels. A great series of books to share with your baby. 16 Pages each.
Included in this boxed book set:
Possum Magic Numbers

Possum Magic Colours

Possum Magic Opposites

Possum Magic Actions
Let's explore colours, numbers, opposites and actions with our friends from Possum Magic. Now even the youngest readers can get to know some of the adorable Australian animals in Possum Magic. Children and parents will love this variation on a timeless favourite.
Possum Magic has been reinvented for the first time as a counting book for very small children. On its first publication in 1983, Possum Magic was an instant success, and has been voted by booksellers as Australia's best-selling children's picture book. Children and parents will love this variation on a timeless favourite.
About the Author:
Mem Fox was born in Australia, grew up in Africa, studied drama in England, and returned to Adelaide, Australia in 1970. She is Australia s best loved picture-book author. Her first book, Possum Magic, has sold over four million copies and is still the best selling children s book in Australia, 29 years after its publication.
She has written over 40 books for children among which are the perennial favourites: Possum Magic, Time for Bed and Where Is The Green Sheep?; and several books for adults also, including her best selling book for parents: Reading Magic: how your child can learn to read before school and other read aloud miracles. Her book: Ten Little Fingers and Ten Little Toes was on the New York Times best-seller list for 18 weeks in 2008 "2009 and also won best book for young children at the 2010 Turin International Book Festival in its Italian edition. Her books have been translated into 19 languages.
---
We Also Recommend