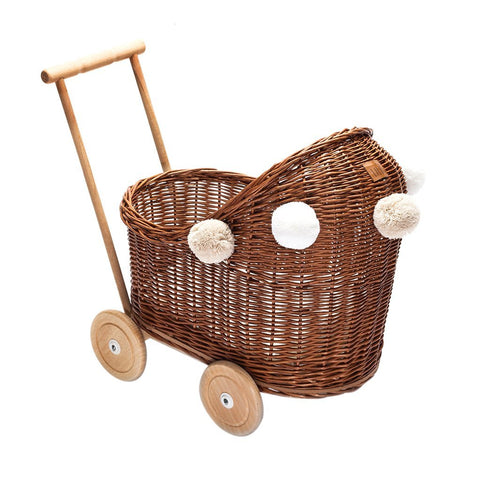 Lilu Wicker Pram
Lilu's Wicker Doll's Prams are one of the most beautiful pieces you could gift your child. They are made from natural materials in wicker, wood, and cotton, and are ready for hours and hours of play and fun.

These doll's pram is a gorgeous item for the nursery or child's room. Each pram is made by entirely by hand using traditional tools and methods. All paint is water-based and solvent-free.
Each baby doll pram comes with five gorgeous pom poms and a soft muslin cotton mattress, quilt and pillow, all of which are removable if you wish. The doll's bedding uses a deluxe silicone anti-allergen filler.

All Lilu products are made from the highest quality materials, ethically and sustainably sourced from Poland, and with the highest attention to detail.
Strong natural wicker and timber

Soft muslin cotton mattress, quilt and pillow included

Five removable pom poms included
Dimensions: 58cm high x 27cm wide x 48cm long
Colour: Natural
Maintenance & Care: Each wheel and the handle are secured with screws that can loosen with use over time. Please check the screws regularly, prior to play. If you detect any loosening, simply tighten with a Philips head screw driver. Be careful not to over-tighten the screws, as this can prevent the wheels from turning properly and the screws from tightening thereafter.
Avoid use on rough surfaces, such as concrete, as this can cause excessive wear and friction and can damage the wheels.
The muslin bedding can be machine washed on a gentle cycle. Do not tumble dry. Avoid harsh detergents/stain removers. The wicker itself can be wiped over with a clean damp cloth to remove any dust or dirt.
---
We Also Recommend