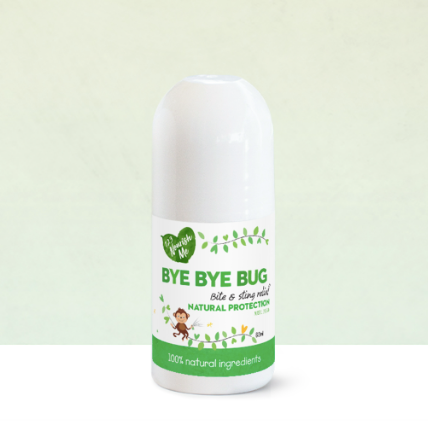 123 Nourish Me Bye Bye Bug Roll on Repellent 60ml
Protection for the whole family
Net: 60ml
No nasties!
Deet Free
An natural alternative personal insect repellent
With added bite and sting relief
Helps deter flies, mosquitoes and other insects
Oil based no alcohol
Smells amazing!
Suitable for ages 1yr+
Many insect repellents contain harmful chemicals ours don t! Safe, natural and effective with organic essential oils to keep mozzies and other biting insects at bay.
Bye Bye Bug doesn t contain any harmful chemicals including DEET, Trans and Cyfluthrin, Picardin, Parabens, Mineral Oils or Synthetic fragrances. It is non greasy and is made with only natural ingredients and smells lovely! Gentle yet effective.
Safe, natural and powerful protection!
How to use it
Shake well before use. Apply to all exposed skin. Repeated application may be necessary in infested areas.
What s in it?
Natural ingredients of: Caprilic Capric Triglyceride (Derived from Coconut Oil), Lavandula Angustifolia (Lavender) Oil, Mentha Viridis (Spearmint) Leaf Oil, Cymbopogon Nardus (Citronella) Oil, Eucalyptus Globulus (Eucalyptus) Leaf Oil, Melaleuca Alternifolia (Tea Tree) Leaf Oil, Santalum Spicatum (Australian Sandalwood) Essential Oil.
THE GOOD STUFF
Coconut Oil
A beautiful base for our Bye Bye Bug meaning we can be 100% alcohol free. Coconut Oil is a natural protective and gentle on the skin which is great for kids and babies.
Lavender Oil
Lavender Oil is a great soother for the skin and offers assistance for bite and sting relief. Even though lavender is a smell often enjoyed by humans, we use lavender oil because lavender repels mosquitos because mosquitos dislike the scent lavender gives off.
Spearmint Oil
The mint family are a powerful herb for repelling mosquitos. Most plants contain compounds that they use in preventing attack from phytophagous (plant eating) insects. These chemicals fall into several categories including constituents that repel insects. Spearmint oil is a natural repellents that deters mosquitos.
Citronella Oil
Unlike other varieties of pesticides, citronella does not kill mosquitos rather it repels them and other pests, reducing the number of mosquitos that land nearby. Citronella works by masking scents that are attractive to insects namely carbon dioxide and lactic acid in humans.
Eucalyptus Leaf Oil
Used since the 1940s, eucalyptus oil is one of the more well-known natural repellents. The Centers for Disease Control and Prevention (CDC) have approved eucalyptus oil as an effective ingredient in mosquito repellent. We use it because we love it s long lasting effects that keeps mozzies at bay!
Tea Tree Oil
Tea Tree Oil contains many medicinal constituents to sooth and protect the skin. We use it for it s natural ability to repel mosquitos and for it s powerful protective qualities.
Australian Sandalwood Oil
Sandalwood Oil is an amazing natural, chemical free, mosquito repellent. We love the earthy scent and the powerful protection that it gives and we also use it to support the Australian Sandalwood industry.
---
We Also Recommend