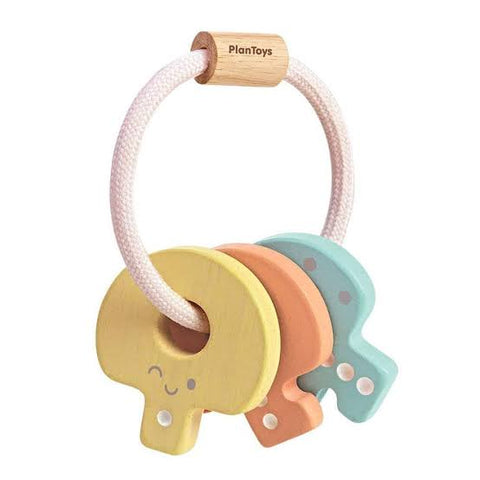 Plan Toys Pastel Key Rattle
Little ones will love playing with this rattle, and mums can have peace of mind knowing their toy is safe. Made of natural untreated rubberwood and dyed with organic colouring, this wooden toy is safe for kids and also sustainable for the planet.
The Plan Toys Baby Key Rattle is also the right size for hands to grab, shake and rattle. It helps develop fine motor skills and soothes sore gums while testing. With no plastic or harmful chemicals, this is a perfect toy for babies ages 4 months and up.
Features:
This wooden rattle has three bright keys with adorable graphics.
The tactile toy is small and light enough for little hands to hold.
Develops fine motor skills
Stimulates the senses
All PlanToys toys are sustainably made from rubberwood trees, water-based dyes, organic pigments and formaldehyde-free glues.
Materials are tested to meet US and EU toy standards.
Put it in the stroller or car seat, or have kids play with it during tummy time.
Suitable for kids 6 months up
Dimensions: 5.5 x 7.2 x 10.4 cm
---
We Also Recommend